The Austin Branch of the American Association of University Women was organized by 15 women on November 15, 1923, at the Driskill Hotel.  Among those present at this meeting were some of the most outstanding leaders in religious, civic, and cultural activities in Austin.  On November 23, Mrs. F.L. Jewett was elected as the first president of the branch.  Initially the branch had very strong ties to the University of Texas.  Given that the status of women has always been of prime interest to the organization, the speaker at the first general meeting on February 8, 1924, was Dr. F.L. Ellis on the subject "Status of Women in College and University Faculties."  Many contributions and accomplishments have been made by branch members since.  Some of the more noteworthy are cited here.

BRANCH ACCOMPLISHMENTS
On November 13, 1925, AAUW member Grace Delano Clark persuaded the organization to take on the project of establishing a library for Austin.   Austin Public Library Association was born. AAUW organized a house-to-house canvass for book donations and money for a new building, and the Austin Public Library Association was able to erect a temporary wood frame building on the site in 1926.
The initial meager 1700 volumes were the beginning of our present library system, and Mrs. Clark volunteered as the first librarian.  The branch still makes book donations in honor of deceased members.
Established an endowment fund at the University of Texas with our first contribution of $1,100 in 1927.  Aided by multiple fund raisers and the generous donations of more than $10,000 by and for Mildred Englert, a long-time AAUW member, the endowment was completed in 1992.  The interest is used for annual fellowships to women in the last year of their doctoral program at the University of Texas at Austin.  The Austin Branch has awarded these fellowships yearly since 1985 to 2-5 women doctoral candidates at The University of Texas at Austin.
Helped found the Austin Woman's Club in 1928; charter member for "the support of an educational undertaking, the study of literary, civic, patriotic, artistic and other cultural subjects," and to provide a place for women to gather, learn, and network.
Worked on social issues in the 1930s, cooperating with other charitable organizations to provide food and clothing to the needy in Austin.  A milk fund for the underprivileged children was established.
Introduced the first "talking book" for the blind in the 1930s.
Worked to improve conditions at Brackenridge Hospital and in 1937 helped start a Well Baby Clinic, which became a pilot project for the Well Child Clinics.

Sponsored in 1941, with the City of Austin, the Chalmers Nursery School, which was a Works Progress Administration project. The first "war nursery" located in a federal housing development served 25 children, ages 2-7.  Chalmers name was changed to Austin Community Nursery Schools (ACNS), funded by Community Chest, in 1944. There is presently one location in south Austin, which is now called Mainspring Schools, and is an United Way recipient. AAUW continues its support. In 1991 the branch held a reception to honor the ACNS 50th year. In 1996 the branch started an endowment fund with a goal of $10,000, with the annual interest used to assist a Mainspring Schools teacher to further her education.
Sponsored a series of children's plays in the 1940s and 1950s, which were successful for fund-raising as well as the  enjoyment of underprivileged children.
Worked as an active branch legislative committee during the 1940s on the Texas State Teachers' Retirement Act, consolidation of small schools, public aid to education, jury service for women, National Women's Rights Bill, and the Wage and Hour Act.
Began and co-sponsored for many years the Women's Legislative Days each February that the Texas state legislature was in session.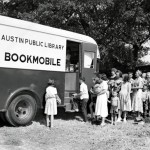 Obtained the first Bookmobile for the Austin Public Library in 1951. At the Bookmobile's 10th anniversary in 1961, it had traveled over 86,000 miles and distributed over 1 million books.
Sponsored meetings to stuff 40,000 envelopes with information on Infantile Paralysis in the early 1950s. For several years, members staffed downtown booths on the first day of the March of Dimes Campaign.
Began "Sales Days" at an Austin department store in the early 1950s to raise money for the AAUW UT scholarship fund. This program continued for a number of years.
Assisted with teaching English and U.S. citizenship exam preparation at the Pan American Center in the late 1950s .
Participated in the Community Council of Austin and Travis County for several years beginning in the early 1960s. The Council later became part of the United Fund.
Held numerous fund raising projects in the early 1960s to help pay for the new AAUW national headquarters in Washington, D.C. The Branch's part of the building fund debt was retired in 1966.
Supported the plans for a Junior College in Austin in the early 1960s which became Austin Community College.
Appreciated that Branch accomplishments were highlighted in a February 1963 full-page story in the American-Statesman entitled AAUW: 40 Years of Service.
Hosted a two-day Texas Division (now called AAUW Texas) leadership conference in Austin in 1964.
Initiated action to nominate Dr. Jenny Lind Porter-Scott for Poet Laureate of Texas. She held this honor in 1964-65.
Volunteered at new educational TV station KLRN-ETV in the mid-1960s, helping out in various capacities.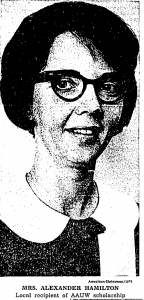 Assisted with a statewide College Faculty Program for mature women in the late 1960s. Its purpose was to aid older women pursuing graduate work to prepare for full time faculty positions at colleges and universities.
Picture: Mrs. Alexander (Caroline) Hamilton, the first Austin woman to be recipient of the AAUW College Faculty Program.

Supported the Austin Public Library's expansion program beginning in the early 1970s.
Celebrated 50th anniversary of the Branch in November 1973 at the Driskill Hotel in the same room where the first organizational meeting was held. In attendance were three of the Branch's original members.
Joined with other groups in the early 1970s to help organize and become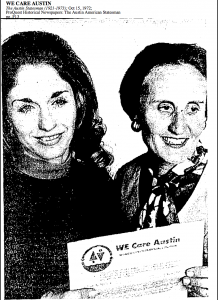 part of We Care Austin, a women's  environmental coalition (1972-1994) to work with Austin area planners and decision makers toward the development and implementation of a comprehensive development plan for Austin. This was prompted by the national AAUW biennial topic "Our Beleaguered Earth".
Developed, helped fund, and published Women in Early Texas in 1975, to recognize significant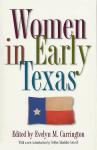 contributions by women to life in early Texas as a contribution to the American Bicentennial in 1976 and International Women's Year. The Mayor of Austin Jeff Friedman proclaimed January 20, 1976, as "Women in Early Texas Day" in conjunction with the book's release. The book's editor, former AAUW State President Dr. Evelyn Carrington, presided at a book signing at the Old Bakery in downtown Austin. The book, which is a collection of biographies of notable women from various ethnic groups who participated in the early history of Texas, was republished in 1994 by the Texas State Historical Association after the first edition was completely sold in less than a year after publication.
Honored Outstanding Women of Central Texas during the late 1970s and early 1980s (now the Governor's recognition of Outstanding Women of Texas awards).
Sponsored Town Meetings with School Board candidates in mid-1970s.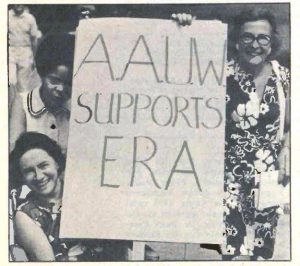 Worked to support the Equal Rights Amendment and voter registration in the 1970s.
Held a style show at the Driskill Hotel to raise money for the National Fellowship Foundation in 1977.  The show turned out to be shocking since the models did not have on underwear and showed bare breasts.  Fashion shows continued to be popular ways to raise money for the Legal Advocacy Fund in the early 21st century.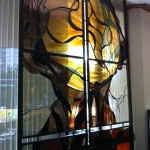 Commissioned artist Damian Priour to create a 70 foot stained glass panel for the Austin Library Permanent Collection as a gift from the Austin Branch. At a July 1979 dedication ceremony, the stained glass panel and a painting by Mr. Gustav Likan were presented to the Library. Mr. Priour also designed the etched glass awards given to Outstanding Women of Central Texas.
Sponsored a community symposium, Energy Sources for the Future — A Town Meeting in 1980. This event was made possible by a grant from the AAUW EF Research and Projects Program.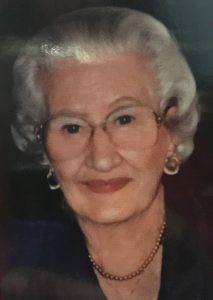 Presented Families Facing Change, a series of programs with a panel of experts, moderated by Dr. Inez C Jeffery in 1980.
Established in 1983 what is now Literacy Austin. The Branch continues to supply tutors and served on their board of directors until 1997.
Produced Book Talks by Helen Morton for several years. Helen selected the books and told the stories in her own entertaining style.This was a popular fund raiser for the branch.
Honored former Congresswoman Barbara Jordan of Austin in 1984 as part of the Branch's Outstanding Women's Program. She was recognized for her contributions in the field of law, civil rights, and constitutional rights.
AAUW National opened its ranks to allow males to become members in 1987, and that same year Roger Danley, husband of Nancy Danley, Branch President (1986-87), became the first male member of the Austin Branch. Among other men who have joined the Branch since then to support women in Austin Branch leadership roles are Dr. Lawrence Cranberg, Tom Watson, and Charles Brewer.
Served as an Adopt-A-School sponsor of St. John's Teen Parenting Center of AISD in 1990 and helped provide a computer, established a library, and served as mentors and tutors to these young mothers.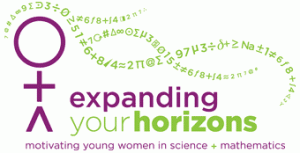 Became a co-sponsor in 1990 with UT and University Teaching Center, and Girl Scouts-Lone STAR Council to produce Expanding Your Horizons in Science and Mathematics (EYH), a conference for young women in grades 6-8, designed to increase awareness of and enable students to talk with women in these fields.  TWIST (Tomorrow's Women in Science and Technology) was created a few years later to aid in fundraising for EYH. The Austin Branch volunteers helped produce these conferences until Girlstart was founded in 1997.  STEM (Science, Technology, Engineering and Math) education continues to be a priority for AAUW, both nationally and locally, and the Austin Branch supports STEM programs with Girlstart and Latinitas.
Established in 1991 the Texas Educational Development Grant to assist branch members who wish to further their education.
Hosted the 36th Biennial Texas State Convention in June 1994, and thanks to the hard work of the Austin Branch with Nita Hornbeck as the Convention Director, made a profit for both the state and the branch.
Upon the completion of the UT Fellowship endowment, started providing funds for other local schools and projects. Scholarships were given 1993-94, to Huston-Tillotson College, Austin Community College, St. Edwards University. Funds were also provided to the Believe in Me program and the Teen Parenting Council.
Assisted in Educational Equity workshops and AISD Sexual Harassment Policy formulation 1993-94. Miriam Tormollan was the lead, and Veronica Johnson was with her when the branch helped write the Sexual Harassment Policy at the University of Texas at Austin.
Received recognition as a 5-Star Branch, an award given by AAUW TX, in 1993, 1994, 1995, 1996, 1997, 1998, 1999, 2000, and 2001. This program was discontinued after 2001.
Created in 1998, thanks to Dr. Sue Worden and Dr. Elaine Kant, our first Branch website at http://main.org/aauw/ as part of The Metropolitan Austin Interactive Network, a non-profit organization whose mission was "to establish and operate efficiently a community-access computer network" for "information sharing and communication among the people and governmental, educational, commercial, cultural, religious, and civic organizations" in Austin. Even though Dr. Worden moved to Virginia in 2003, she continued to maintain the website until 2007, with members Delia Quintanilla, Melinda Townsel, and Anita Knight subsequently taking on the webmaster role until the current website was in place in 2012 using the AAUW Site Resources template.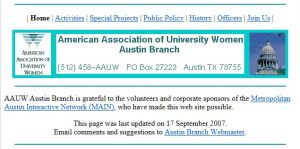 Participated in the Fellowship Fairs at UT Austin.
Celebrated our 75th year November 15, 1998, at the Driskill Hotel. Everyone wore hats and enjoyed branch history skits. We had most of the living past presidents attending, and many previous members attended and rejoined the branch.
Branch President Pam Wolfe represented AAUW Texas to participate in a Panel of Women for Equal Pay Day in 1999 and her sound bit was on the local news.
Worked at the Annual Austin Aquafest Rubber Duck Race to support Austin Community Nursery Schools for several years and helped sell raffle tickets at Highland Mall to support the Children's Advocacy Center in 1999.
Raised money for the Legal Advocacy Fund with fashion shows, including in 2000-2004, and again in 2008.  They were held in churches, the Asian American Cultural Center, the Zach Scott Theatre, and the Northcross Mall.  A children's fashion show was held at ACC Northridge Campus in 2009.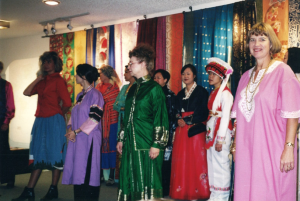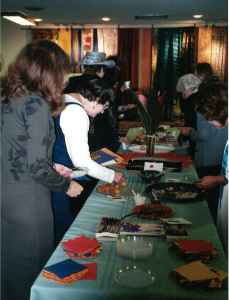 Sponsored, in association with Austin Community College, a public forum Austinites Discuss Social Security in 2000.
Presented and hosted an hour-long program about AAUW on local access television in 2000.
Led October 2000 rally for "Redistricting and Get Out the Vote".
Represented AAUW on KLRU-TV's "Class of 2012″, a town hall type program about teaching and technology aired in 2000.
Hosted the AAUW National Convention 22-26 June 2001 in Austin.  The theme was "Shape the Future in your community, country, and the world.".
See pictures below of local members at the Information and Tour table welcoming delegates.
Received Association grant to AAUW Austin Branch and Lone Star Girl Scout Council for E-PenPal project in 2001.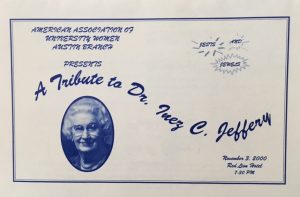 Completed the Dr. Inez Cope Jeffery Educational Foundation Endowment of $35,000 in 2002.
Collaborated with several community organizations in 2002 and 2004 to host an intergenerational Woman-to-Woman dialogue on cultural background and identity.
Received Association's Platinum Award for the 21st Century and the Texas International Star in 2001-2002 and 2002-2003.
Began supporting a new Student Affiliate Group at The University of Texas at Austin during 2001-2002.
Received a Community Grant from Association to implement Project GEM in collaboration with Sigma Rho, an African American sorority.
Provided an academic planner for each student and faculty/staff member in Fulmore Magnet School Program for 2002-2003.
Co-sponsored a Public Educational Forum with LWV, AARP, and Gray Panthers in 2003 – Financing Health Care in the Austin Area 
Held a Woman-to-Woman dialogue with the Hispanic Women's Network in 2003.
Gave the first "Give a Grad a Gift" to Laura Gladney-Limon in 2003.
Served as volunteers for three fundraising events for the Children's Advocacy Center in 2003.
Co-sponsored with the League of Women Voters and YWCA a guest speaker on Social Security reform which took place at the Connelly-Guerrero Community Center.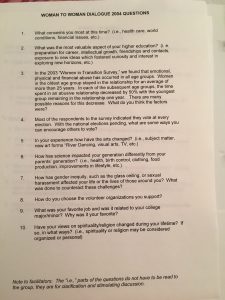 In 2003-4 conducted a survey on "Women in Transition: Dialogue among Generations to Identify Career and Lifestyle Changes Transitioning in the the Future" as a project for the Association's 21st Century Project. Pam Wolfe authored this study of members of 8 women's organizations in Austin, and it became the basis for a TV show, newspaper article, and Woman-to-Woman Conference in the fall of 2004.
Co-sponsored a Forum on School Finance with LWV and TX Education Crisis Coalition, March 2004.
Established the AAUW/Frances Malmberg Endowed Scholarship in the Austin Community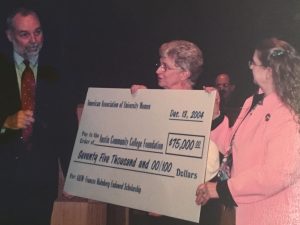 College Foundation in 2004, made possible by branch member and former branch president Frances Malmberg's legacy.  It is available to assist female students, 25 years or older enrolled at ACC.
Completed curtains for the Mainspring School in summer of 2005.  Brenda Scholin, Dorothea Berasley, Peggy Holland, and Sylvia Gregory made the curtains with funds donated by AAUW members.
Distributed 110 copies of Inez Jeffery's book: Inside Russia: The Life and Times of Zoya Zarubina to Austin ISD and 75 copies to Central Texas Public Libraries in 2006.
Held meeting in 2007 between President Dale Willimack, Public Relations Chair Linda Leff and International Relations Chair Gayle Smith and Long Meiyun of Guangxi, China,  as part of the International Visitor Leadership Program.  The IVLP is a U.S. Department of State program in which GlobalAustin (formerly the International Hospitality Council of Austin) participates, and in which branch members can also share "citizen diplomacy".
Had a "Kentucky Derby" party as a successful new EF fundraiser in 2007 and 2008 where attendees enjoyed a hat contest, appetizers, desserts, and the Kentucky Derby races on TV.
Beginning in 2008 when AAUW National's Education Fund Board approved
creation of the Ann Richards American Fellowship Fund, raised and sent funds toward its completion.
The following Austin AAUW members were included in the recognition of 100 Women of Distinction at the Texas Centennial Biennium Convention in 2008: Dr. Sherry Gillespie, Lottie Gradick, Peggy Holland, Dr. Inez Jeffery, Veronica Johnson, Rachel Muir, Dr. Jenny Lind Porter-Scott, Dr. Delia Quintanilla, Raemar Shown, Miriam Tormollan, and Pam Wolfe. Pam Wolfe created the booklet AAUW published celebrating this award.
Participated in Equal Pay Day at the Capitol in 2009 and a letter-writing campaign in support of US Title IX in 2009.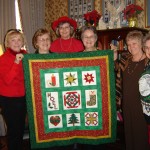 Donated for scholarships a "Redwork" quilt handmade by Creative Stitchery study group. A handmade quilted wall-hanging was made in 2010 to match the Americana design on the pin for special donors to the Ann Richards American Fellowship Fund, and this was raffled at the 2010 state convention. A quilted Christmas wall-hanging (shown here) and Christmas vests were other fund-raising items prepared and donated by this talented group.
In the fall of 2011, when AAUW National launched a Site Resources group (http://site-resources.aauw.org/ ) to offer "website solutions that work for your branch" and provide a degree of standardization for AAUW Branch websites, Anita Knight began interacting with Site Resources about a new website for the Austin Branch. Site Resources moved existing content from the old website for a nominal sum and provided Anita with technical problem solving assistance, and the new website at https://austin-tx.aauw.net/ was launched in 2012 and continues to expand its features.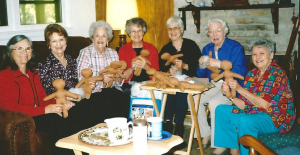 Started a new community service project in 2012:  Creative Stitchery group made dolls for the Dell Children's Hospital for therapeutic medical play.
Hosted the 45th Biennial Texas State Convention in April 2012, with Elizabeth Newell serving as Local Arrangements Chair, Rosemary Morrow and Pat Rehm serving as Co-Chairs, Pat Rehm serving as Convention Registrar, and Inés Garcia serving as Convention Treasurer.
When middle schoolers Priya and Kavya Ramamoorthy, Smrithi Mahadevan and Maanasa Nathan heard about a girls' swim team required to practice in an old pool while the boys' team got to use the high school's new pool and equipment, they first really encountered the sort of discrimination that the United States' enactment of Title IX in 1972 was meant to prohibit. Their Title IX research work led them to seek help from the local AAUW branch. Veronica Johnson arranged for a meeting at her home with other AAUW members, and Nita Hornbeck, Pat Rehm, and Barbara Waite volunteered to mentor them in web development. The girls were also able to interview Lisa Maatz, the AAUW top policy member in Washington, D.C., and went on to win the Gold Medal in the 2012 National History Day Competition for their website  "Title IX: Empowerment Through Education" .  They received AAUW's Title IX Champions award.
Joined with the Austin branches of the National Women's Political Caucus, the League of Women Voters, Delta Sigma Theta Sorority, and Austin Community College in the Cooperative Project On Voter Registration/ Education Campaign For Women, funded by a grant awarded to the Austin Coalition by the League of Women Voters to conduct effective voter registration activities in the Austin area in the fall of 2012. Dr. Sylvia García served as the Branch's coordinator for this project.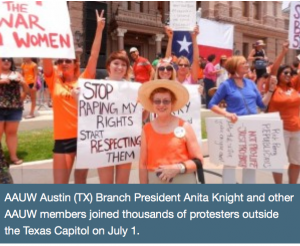 Participated in Planned Parenthood Lobby Day at Capitol in 2013.
Paid registration fee to enable a UT graduate student to attend the National Conference for Women Student Leaders (NCCWSL) in 2013.
With AAUW Texas and AAUW Georgetown Branch, hosted "When Women Succeed, America Succeeds" event with Congresswoman Nancy Pelosi at Austin Community College Northridge campus August 26, 2013 (Women's Equality Day); an audience of about 200 included many members, ACC personnel, local political leaders and activists, and media representatives.
Celebrated the 90th anniversary of Branch at a luncheon at the Austin Woman's Club in November 2013. The program, including a slideshow of Austin Branch history, was planned by Pam Wolfe and Judy Reinhart, and a total of eight past Presidents were in attendance.
Participated in STEM Computer Science Education Month and Hour of Code at Girlstart
in December 2013.
Participated in a hearing on women's health issues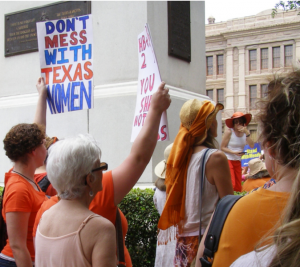 and in Texas Freedom Network's "Stand with Texas Women–Again" rally at the Capitol in February 2014.
Participated in Equal Pay Advocacy Day at the Capitol in April 2014.
Sponsored screening of YogaWoman at the Marchesa event center in Austin on April 29, 2014, sending proceeds to the Ann Richards American Fellowship Fund. Mary Ellen Scribner organized the event and got it listed as one of the week's top events in the Austin American-Statesman.
Began a Facebook page for the Branch in August 2014.
For AAUW Texas 2014-16, Inés Garcia was elected as Finance Officer and Judy Reinhart as Texas Central District Representative, and Janani Janakiraman was appointed Website Maintainer. Inés had received a Branch President's Award in 2011 and Judy had received that award in 2010.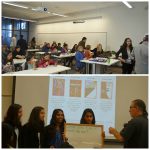 Nickelodeon's NICK NEWS producer and crew filmed an episode in Austin on November 24, 2014 on Title IX, featuring our AAUW Title IX champions (Priya Ramamoorthy, Kavya Ramamoorthy, Smrithi Mahadevan, and Maanasa Nathan). Soon Merz Flynn arranged for the use of a classroom in ACCelerator (the nation's largest learning lab) at the ACC Highland Campus. Lilac Bauer, Anita Knight, Mary Ellen Scribner plus some ACC students and staff completed a very respectable audience for the filming.
Participated in Equal Pay Day at the Capitol in April 2015 and collected signatures for a "Stand Up 4 Texas Women & Families" to be presented to the Governor and Lieutenant Governor
Visited legislators at the Capitol in May 2015 to rally for passage of HB187, authored by Representative Senfronia Thompson (District 141) and addressing unlawful discrimination in employment compensation.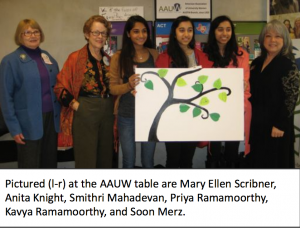 Soon Merz Flynn sponsored the use of the Austin Community College Eastview campus for The Women's Empowerment Conference in March 2015. The Branch played an active role in the conference, with AAUW President Jeannie Best, Soon Merz Flynn, Anita Knight, Judy Reinhart, and Mary Ellen Scribner staffing a table there.
Staffed table at African American Book Festival held June 27,2015 at the Carver Museum & Library.
In 2015 and again in 2016, in recognition of the volunteer service of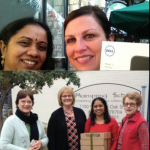 Janani Janakiraman, who works at IBM and volunteers as a core team member of IBM's Women in Technology Community Service Organization, IBM gave the Branch a $1,000 community education grant for the Branch. These grants were used to purchase tablet computers for Latinitas and Mainspring Schools, to support Latinitas' Code Chica conference, and to support technical education at Girlstart, Latinitas, and Mainspring Schools.
Pam Wolfe was elected as President of AAUW Texas for 2016-18, Marina Rivers was elected as Texas Central District Representative, Ann Berasley appointed Parliamentarian/Bylaws and Janani Janakiraman Website Maintainer. Pam Wolfe and Ann Berasley are former Austin Branch Presidents.
Assisted with voter registration at Austin Community College events and other Austin area voter registration events in September and October 2016.
In October 2017, in recognition of the volunteer service of Janani Janakiraman,  IBM awarded the Branch a $2,000 community service grant to support the Branch's STEM programs. 
---
On December 3, 2017, Austin Branch and Austin Federated Woman's Club hosted a Holiday Social at the Texas Federated Women's Club Mansion. Marsha Endahl Kramer and Marina Rivers, co-chairs and past Austin Branch presidents, were delighted to welcome over 110 members and guests in attendance.
---
Since 2012, Lilac Bauer has been the Liaison since 2012 for Austin AAUW Branch volunteering with Girlstart and Latinitas, two local non-profits dedicated to bringing hands-on STEM (Science Technology Engineering and Math) and STEAM (Science Technology Engineering Arts and Math) education to 4th through 8th grade girls in programs throughout the school year.
In the fall of 2017 she assembled a new team to assist in this work. As of their first meeting in August 2017, the Planning Committee consists of these seven members: Lilac Bauer (Committee Chair), Jackie Hardee, Janani Janakiraman, Carol Midboe, Judy Reinhart, Katherine Staples, and Ginny Tannebring.
We have had a good turn out of Branch volunteers this year, and have added new activities such as curriculum formatting for Latinitas After School Clubs, and data entry from Girlstart's 625 attendees at the Girls in STEM Conference on March 24, 2018 at Travis High School in Austin.
---
On Febuary 23, 2018, the Austin Branch and Global Austin co-sponsored a program by Pakistani-Canadian journalist, activist, and author Raheel Raza, for an open to the public meeting at Austin's North Village Branch Library.
On November 10, 2018, the Branch celebrated AAUW  Austin's 95th birthday
with a panel of past presidents presenting their memories of some of
AAUW Austin's greatest moments, memories, and accomplishments.  Judy
Reinhart facilitated the discussion and gave a brief summary of the very
early years, and Kay Goodwin (President 1971-73) shared  memories from
the 1970s, Ervalyn McVeigh from the 1980s,  Pam Wolfe from the 1990s,
Elizabeth Newell from the 2000s, and Mary Ellen Scribner from the 2010s.
Members attending were encouraged to wear hats and their AAUW pins.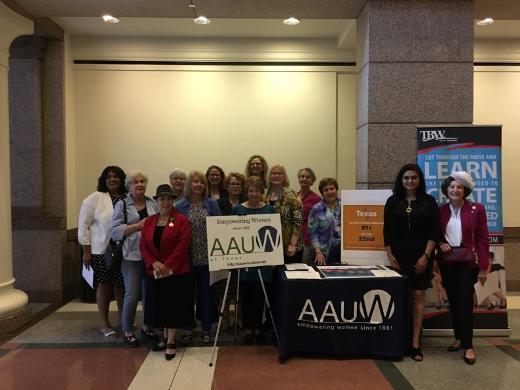 AustinBranch members were among the attendees at Equal Pay Lobby Day in April 2019.
Spring 2019. The May meeting was highlighted by the introduction of three of the five PhD candidates from the University of Texas selected to receive AAUW Fellowship awards for 2019-2020. Amanda McClelland, Lauren Smith, and Carolina Vilas gave brief presentations on their individual areas of study. The program continued with a presentation on early childhood education and the founding of Chalmers Nursey School (now Mainspring Schools) by AAUW-Austin and the AISD 78 years ago. Concluding the meeting was a presentation of the branch's annual named gift awards and the installation of officers. Joyce Pulich and Larayne Dallas will serve as Co-Presidents in the 2019-2020 year.
In September 2019, several members staffed a table at the Women's Empowerment Conference to promote the AAUW Work Smart program.
Fall 2019. Two additional AAUW Fellowship recipients, Michaela Machiote and Samantha Simon, spoke on their academic research pursuits at the October branch meeting, followed by a presentation on the Women's Storybook Project by Jill Gonzalez. Addressing the "Politics of Climate Change" was the focus in November, with a presentation by Anna Graybeal, an Austin area psychologist and co-founder of the Austin chapter of Citizens' Climate Lobby. The branch also named the two recipients of the AAUW Frances Malmberg Endowed Scholarship: Clessie Hilliard, a nursing student at Austin Community College (ACC); and, Jessica Choate, also an ACC student pursuing a degree in business administration. Each will receive $2,100 to support their studies.