The Austin Branch of the American Association of University Women (AAUW) was organized by 15 women in 1923, at the Driskill Hotel, with many contributions and accomplishments made by branch members and continuing since, as recorded in our HERstory under ABOUT US.
---
May 9th Branch meeting (10 a.m. – 11:30 a.m.) over 

Zoom 
https://us02web.zoom.us/j/81822805262
Meeting ID: 818 2280 5262
10:00 a.m. Welcome Co-president Larayne Dallas
AAUW named gifts presentation – Past President Elaine Penn
Introduction of Fellowship Recipients for 2020-2021 – Jean Bessent

Williamena Granger
Caroline Johnson
Lucy Le Blanc
Sierra Mendez
Maro Youssef

Installation of new executive officers

Co-president Joyce Pulich
Co-president: Evelyn Farmer, Ph.D.
VP for programs: Phyllis Folarin, Ed.D.
Membership Co-VP: Gayle Kanies
Secretary: Marian Wernicke

Introduction of Newsletter Editor – Co-president Larayne Dallas
Budget requests – Jackie Hardee
Membership report – Roberta Coffin
Strategic planning update – Roberta Coffin
Fund raising report – Jan Rooker
STEM activities – Nancy Andren
Yearbook update – Pam Wolfe
Remembrance of Nancy Myers – Co-President Larayne Dallas
---
Congratulations to the 2020-2021 UT Fellows
---
Virtual Kendra Scott Give Back Party – April 22nd – 23rd
Thank you for supporting this important fundraiser.
The funds will be sent to our National funds to support our many missions. Check out AAUW.org. We have worked since 1881 for issues including gender equity in education, equal pay for work of equal value, leadership training , research on subjects from bullying "Hostile Hallways," and STEAM education ( science, technology, engineering, arts and math) and we fund much appreciated fellowships and scholarships.
If you want to support this fundraiser, but don't need jewelry, no problem. Just donate any amount of money to AAUW.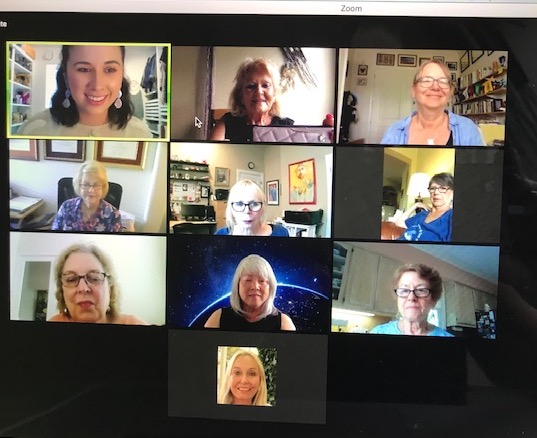 Zoom meeting on the 22nd with AAUW friends and Brittany, Senior Store Manager, at the Houston Baybrook Mall Store was a lot of fun. She brought her jewelry box and talked about how she wears her jewelry and what's new at Kendra's. If you have more questions for Brittany, you can email or call her at 281-945-3725.
---
Nominations open for AAUW Named Gift
Please submit your nomination  for a member or members to be honored with an  AAUW Named Gift. Fill the nomination form and send it to Elaine Penn by email (epenn9915@gmail.com) or snail mail (912 Dartmoor Dr, Austin, TX 78746)  by April 15.
---
AAUW Austin Branch Program Schedule 2019-2020
Branch Meetings Begin at 10:00 a.m.
Sept 7:  Gearing Up for the Census and 2021 Redistricting  by Stephanie Swanson  –  Norris Conference Center
Oct 9:   The Mission and Work of the Women's Storybook Project  of Texas by Jill Gonzalez –  2 Presentations by the recipients of the University of Texas  AAUW Austin Fellowship  –  Chateau Bellevue/AWC
Nov 9:  The Politics of Climate Change by Dr. Anna Graybeal, PhD.- Norris Conference Center
Winter Social:  Women Who Dare – Past President, Lamar Senior Activity Center: 2874 Shoal Crest Ave., Austin
Jan 8:  Bad Girls by Martha Wofford – Chateau Bellevue/AWC
Feb 8:   Alternative Health Practitioners Panel – Fai Chan, Clinical Aromatherapist;  Taryn Altendofer, Acupuncturist; Mary Schneider, Holographic Repatterning – Norris Conference Center
Mar 11:  Local Food Critic  –  Chateau Bellevue/AWC
Apr 11:  Film Director Elizabeth Avellan;  Branch Business Meeting – Norris Conference Center – CANCELED due to coronavirus restrictions
May 9:   Presentation of the University of Texas Fellowships Recipients –
 over Zoom
---
EQUAL PAY DAY APRIL 2019, Texas Capitol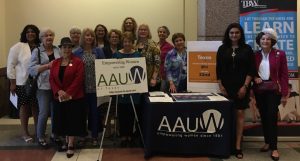 The American Association of University Women has been empowering women since 1881.
AAUW-Texas includes the state organization and local branches in four districts, working for equity for women and girls in schools, on campuses, and in our communities.