The Austin Branch of the American Association of University Women (AAUW) was organized by 15 women in 1923, at the Driskill Hotel, with many contributions and accomplishments made by branch members and continuing since, as recorded in our HERstory under ABOUT US.
"We need women at all levels, including the top, to change the dynamic, reshape the conversation, to make sure women's voices are heard and heeded, not overlooked and ignored." – Sheryl Sandberg
---
November 1923 – November 2023
AAUW AUSTIN BRANCH CENTENNIAL CELEBRATION
Event:  November 1, 2023
More details soon.
---
AAUW AUSTIN BRANCH WINTER SOCIAL PAST PRESIDENTS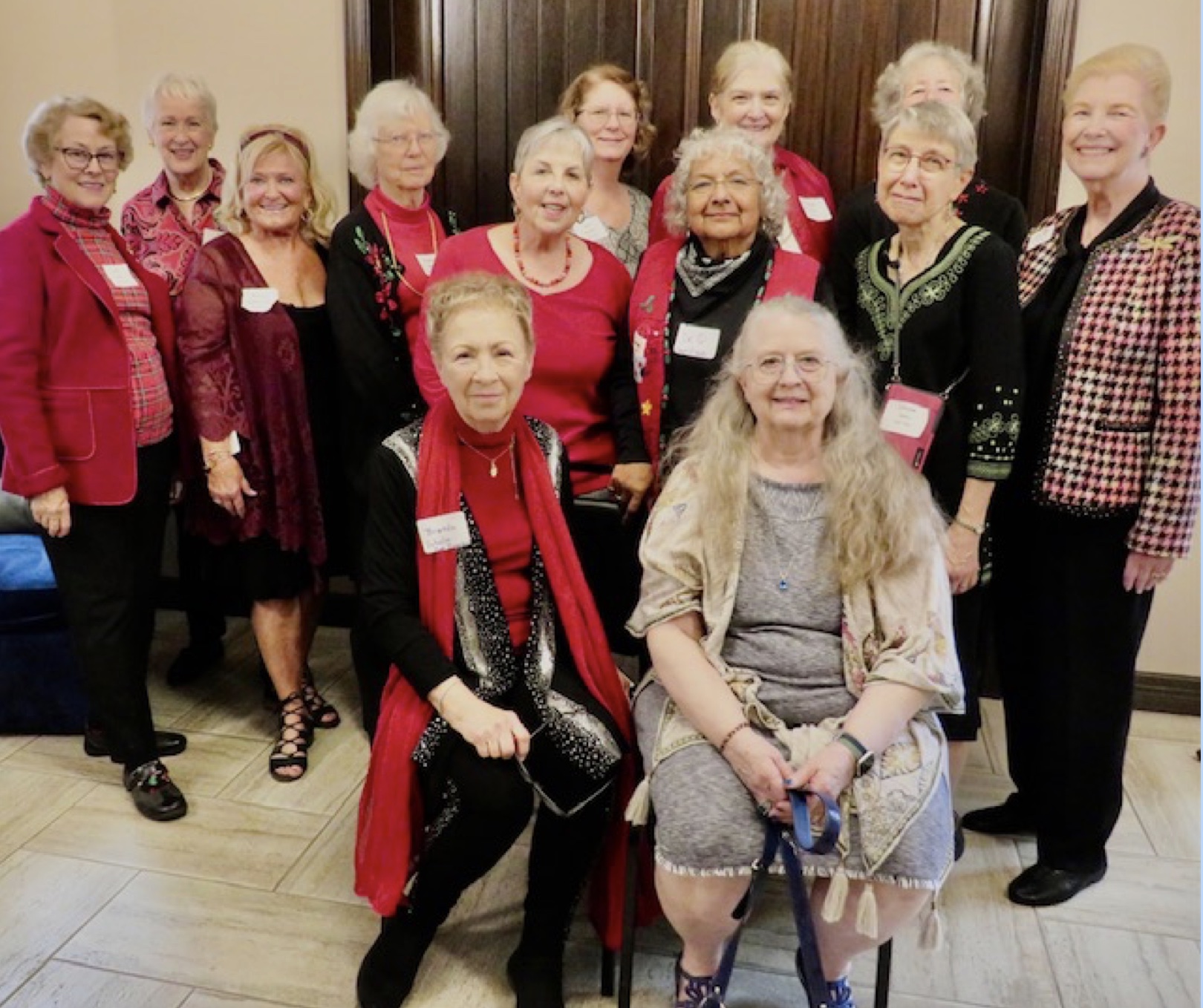 Winter Social was a BIG success, with over 60 RSVPs, and maybe about 55 attending.  The venue was small, but there was plenty of food, chairs for many with others milling around (without social distancing) and connecting happily.  Program listed programs for the rest of 2023, along with the 18 living past presidents on the "committee"  for this annual event.
Lots of good conversation and tasty treats! Thanks to all of the Past Presidents for a great way to celebrate AAUW.  
Special thanks to Marsha Endahl-Kramer for taking some beautiful photos of our good time during the winter social. If you would like to view the photos, click Winter Social Photos
---
AAUW Austin Branch – 2022-2023 Programs
Please consult the Newsletter and Evite for more details.  RVSPs are required for attendance 7 days in advance.  Please specify Lunch or Coffee-only on Evite response.  There is a 48-hour cancellation notification required for all in person meetings.  You will be billed for the meeting if you "no-show".  Networking begins at 10:00 am and the Program begins at 10:30 am. This year we will meet in alternating locations: The Balcones Country Club (8600 Balcones Club Dr., Austin) and the Unity Church of Austin (5501 West US Hwy 290, Austin.)
DATE                                             PLACE                            PROGRAM                           SPONSOR
| | | | |
| --- | --- | --- | --- |
| Sept. 10, 2022 | Balcones Country Club | Steve Saltwick – Co-Founder of Braver Angels of Central Texas | Anita Knight |
| Oct. 12, 2022 | Unity Church of Austin | Jorge Babot – Cuba, the Peter Pan Airlift, Then & Now | Brenda Hahne |
| Nov. 12, 2022 | Balcones Country Club | Thais Perkins – Owner, Reverie Books | Shirlene Justice |
| Dec. 11, 2022  | St. Francis Anglican Church, 3401 Oak Creek Drive (78727) | Winter Social | Past Presidents |
| Jan. 14, 2023 | Balcones Country Club | TBD |   |
| Feb. 8, 2023 | Unity Church of Austin | Chris Kennedy – Leadership Austin | Jackie Hardee |
| Mar. 11, 2023 | Balcones Country Club | Lindsey Derrington – Executive Director of Preservation Austin | Cathy Werner |
| Apr. 12, 2023 | Unity Church of Austin | Dr. Catherine Jaffe, Professor and Author of "Society Women and Enlightened Charity of Spain:  The Junta de Damas de Honor y Merito, 1787-1823″. | Joyce Pulich |
| May 13, 2023 | Balcones Country Club | Installation of Officers & UT Fellows' Presentations | Linda Welsh & Joyce Pulich |
---
Would you like to learn more about our Branch?
---
The American Association of University Women has been empowering women since 1881.
AAUW-Texas includes the state organization and local branches in four districts, working for equity for women and girls in schools, on campuses, and in our communities.