View AAUW legislative alerts on RSS Feed
AAUW-TEXAS current public policy efforts:  STAND UP FOR TEXAS WOMEN & FAMILIES
Attached you will find our latest AAUW Texas Public Policy initiative "Stand Up For Texas Women & Families". Stand Up for Women and Families Petition We are asking that you please sign the petition, distribute it among your branch members, colleagues, friends and family. After each event or petition signing opportunity, please send signed petitions to address on bottom. Governor Perry vetoed the fair pay measure, HB950, in the Texas State Legislature, but we will pursue again with the new administration of Governor Abbott and the Texas Legislature.
You can also sign this online at http://salsa4.salsalabs.com/o/50796/c/23/p/dia/action3/common/public/?action_KEY=9070
Equal Pay Day at the Capitol – April 14th, 2015
The April 14, 2015 Equal Pay Day event at the Texas State Capitol and around the state was a success in advocacy because of AAUW members from several branches, with thanks to Regional Field Representative Melodía Gutiérrez who coordinated it.  Stay tuned for a KXAN report on Equal Pay in May, potentially including personal interviews with AAUW members.
ROE Rally – Jan 24th, 2015
Melodia Gutierrez, Marsha Endahl Kramer and Anita Knight joined the ROE rally on Sat. Jan. 24th at the North steps of the Texas State Capitol.  January 23 was the 42nd anniversary of the Roe v. Wade decision of the Supreme Court, legalizing abortion in the USA.  Four decades later, the status of this decision is precarious: Although Roe v. Wade is still the law of the land, subsequent Supreme Court decisions and several restrictive state laws have chipped away at the right to choose.  AAUW's public policy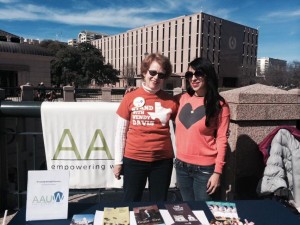 includes: "the right to privacy, freedom from violence, and choice in the determination of one's reproductive life."

According to a recent survey by the Pew Research Center, 63 percent of Americans say they do not want the court's ruling overturned, while 29 percent would like to see it tossed out.  Both sides were present and involved at the Texas State Capitol.
President Obama said in the SOTU: "We still may not agree on a woman's right to choose, but surely we can agree it's a good thing that teen pregnancies and abortions are nearing all-time lows, and that every woman should have access to the health care she needs."
AAUW PUBLIC POLICY PROGRAM, 2015-17
The Public Policy Program underscores AAUW's mission of advancing equity for women and girls through advocacy, education, philanthropy, and research and speaks to women's needs, aspirations, and concerns across the life span. The work of AAUW builds upon more than 130 years of responsible public participation, and the following principles provide a basis for AAUW members' actions at the local, state, national, and international levels. Implicit in each of our principles is support for government agencies administering programs, including adequate appropriations, effective and accountable administration, and provision for citizen participation. We advocate public discussion to ensure enlightened decisions on these principles. We work to increase the number of women and other underrepresented populations in policy- and other decision-making positions. AAUW is committed to working in collaboration with diverse allies and coalitions to break through educational and economic barriers for women and girls.
More information about AAUW's public policy program:
2015-17 Public Policy Principles and Priorities
The AAUW Action Network helps anyone with an interest and an e-mail address to take action to affect the outcome of important policy issues. Action Network links directly to AAUW's Two-Minute Activist, where you can read a brief summary of a current issue and then click to send a letter to Congress. To subscribe, visit www.aauw.org/actionnetwork. If you prefer, write to the addresses or call the phone numbers for your elected officials.
Washington Update is AAUW's free, members-only weekly e-bulletin. It offers an insider's view on the legislative process, the latest policy news, resources for advocates, programming ideas, and updates from the Public Policy and Government Relations Department. AAUW members are encouraged to subscribe through the online form or by e-mailing VoterEd@aauw.org
AAUW does not endorse any candidate running for public office, nor any political party.  AAUW members are active in voter registration drives, voter education efforts, panels, committees, seminars, letter-writing campaigns, and virtually every other means by which citizens can participate in the democratic process.  Other relevant public policy links are as follows:
League of Women Voters – all-volunteer organization that produces a website, an Austin-oriented newsletter, the Voters Guide (around election time) and various other publications. It also organizes and conducts many educational activities including monthly topical meetings, discussion groups, study task forces, and public policy/candidate forums.
Center for Public Policy Priorities – nonpartisan, nonprofit think tank committed to using research and analysis to improve Texas public policy.
Coalition for Public Schools – group of religious, child advocacy, and education organizations representing more than 3,000,000 Texans statewide promoting public education.
Texas Freedom Network – nonpartisan, grassroots organization based in Austin, acting as the state's watchdog, monitoring far-right issues, organizations, money and leaders.