AAUW volunteers at the Girlstart DeSTEMber Extravaganza
March 2018 –  Nonagenarian Fern Chester
Celebrating a special Austin AAUW lady, Fern Chester,  who it's hard to believe is now 90! What a role model of grace, poise, talent and sweetness.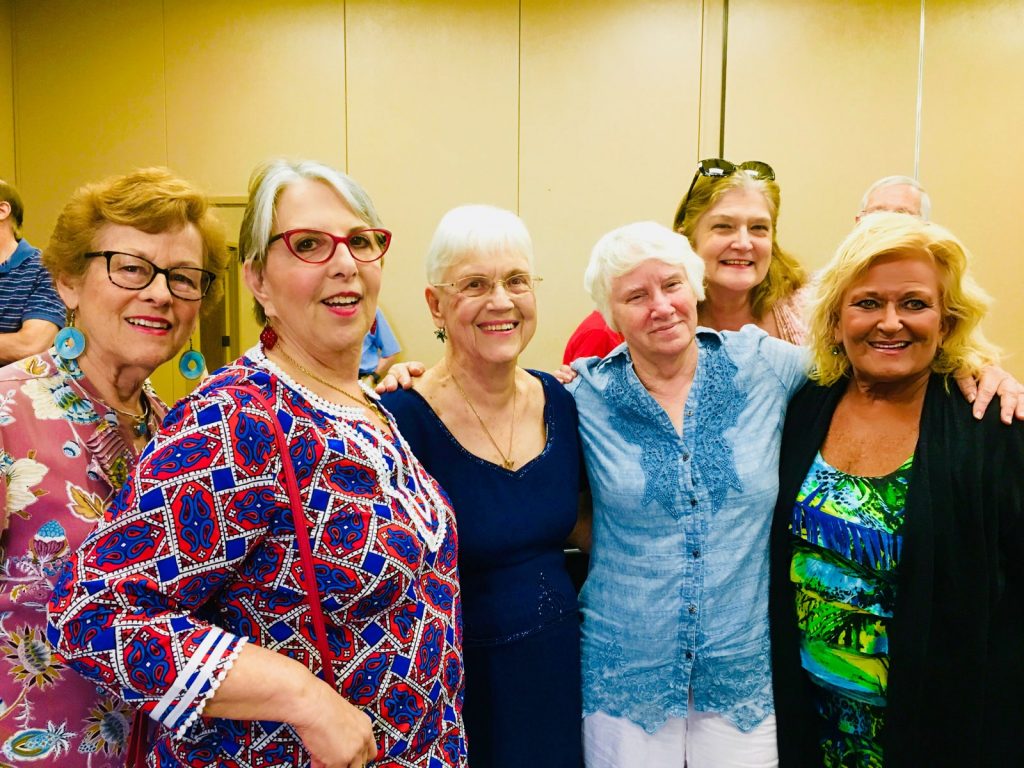 2017 Girlstart Luncheon and Fundraiser
Another outstanding Girlstart Luncheon and Fundraiser. Congratulations to Executive Director Tamara Hudgins and Staff for an extraordinary 20th Anniversary Celebration.
WOMEN'S MARCH AT THE TEXAS CAPITOL
Many of you have heard of the January 21 Women's March in Washington. Did you know we had a similar march in Austin? Why the Women's March? We walked for social justice: the rights, safety, and health for all.
Anita Knight finalist for Diana L. Gorham Lifetime Achievement Award
Anita Knight, immediate past AAUW Austin president and volunteer extraordinaire, was a finalist for the 2015 Diana L. Gorham Lifetime Achievement Award given annually by the YWCA of Austin. She is pictured (l-r) with the recipient, Virginia Marie Raymond, JD, PhD. In the second photo, District 50 State Representative Celia Israel congratulates Anita and Virginia.
Support YWCA, which strives to EMPOWER WOMEN like AAUW does!
---
Honoring and celebrating the 50th anniversary of the Voting Rights Act.
Six AAUW branch members (l-r in photo below): Mary Kate Fredriksen, Ines Garcia, Tulis Escobar, Mary Ellen Scribner, Adrian McCulloch, Anita Knight attended the 50th anniversary of the Voting Rights Act signing by President Johnson. The event was held at the LBJ Library with Luci Baines Johnson in attendance.
---
AAUW Austin members attend the National Convention at San Diego

More than 30 workshops offered lots of choices, information, and fun from national topics to global connections. 
---
Latinitas gets thirty Macbooks
Facebook and Austin Mayor Steve Adler came to visit Latinitas after-school club members at Pleasant Hill and Campbell Elementary schools to address digital inclusion in Austin. To support Latinitas' mission, Facebook donated refurbished Mac laptops.
AAUW Austin member Lilac Bauer has been working as an assistant with the eighteen member Pleasant Hill Latinitas club for the past two years.
Volunteer to support Latinitas.
---
Girlstart keeps expanding under leadership of AAUW member Tamara Hudgins
The SXSW 2015 Interactive Hall of Fame honors Tamara Hudgins, Ph.D., the Executive Director of Girlstart, whose mission is to increase girls' interest and engagement in STEM through innovative, nationally-recognized informal STEM education programs such as Girlstart After School programs and Summer Camp.
Founded in Austin, Texas, Girlstart is the only community-based informal STEM education nonprofit in the nation that is specifically dedicated to empowering and equipping girls in STEM through year-round STEM educational programming.
Volunteer to support GirlStart.
---
 See additional archived spotlight posts.