Mainspring Schools was originally called Austin Community Nursery Schools (ACNS).
The mission of Mainspring Schools is to provide the highest quality early education and care to Austin's most economically disadvantaged children, along with comprehensive services for the children and families so each child will succeed in school and life regardless of socioeconomic status.
AAUW Austin Branch helped found the Chalmers School in 1941.  Chalmers name was changed to Austin Community Nursery Schools (ACNS) when it was funded by Community Chest, now United Way, in 1944.   To concentrate on the model program and to grow in the future, ACNS changed its name in 2004 to Mainspring Schools.  AAUW has continued its support throughout the years, recently providing scholarships to Mainspring teachers allowing them to further their own education.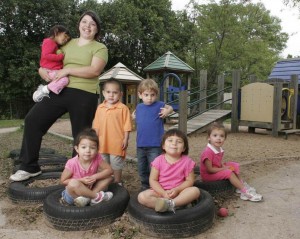 Mainspring serves infants and children, ages six weeks through five years, primarily from low income families whose parents are working, in school, or in job training. Services are provided to families who live in the greater Austin metropolitan area.
Mainspring's primary population is low-income working families (75% of enrollment). The secondary population (25%) is any family desiring a diverse, high quality educational program for their young children. Mainspring is accredited by the National Association for the Education of Young Children, which defines the gold standard for early education and care.
Mainspring  Schools is a 501(c)(3) nonprofit organization, which receives funding from the United Way /Capital Area, City of Austin/Travis County,  USDA Child Care Food Program, parent fees, corporate and foundation grants, and donations from individuals.  In 2011  the Housing Authority of the City of Austin (HACA) renovated the building which  was built in 1967.  Two new classes were added in 2012 thanks to The Humana Foundation with a $100,000 grant. Other area foundations that provided significant help were The RGK Foundation, the Topfer Family Foundation, the Stillwater Foundation, and the Pacey Family Foundation.
In order for Mainspring to receive continued funding from United Way, AAUW and others must maintain an active role in the schools.
Thanks to Janani Janakiraman, who donated hours of service to enhance our branch website, the Austin branch of AAUW received a community grant of $1000 from IBM. We used part of the funds to buys tablets for Mainspring Schools.
Get Involved — Volunteer to help a child!!
Mainspring Schools is located at 1100 West Live Oak Street, Austin, TX 78704, phone (512) 442-2301.