Since its beginning in 1881, AAUW National has emphasized the importance of education for women.  With the increasing emphasis on the need for STEM (science, technology, engineering, and math) education in today's world, educating girls in STEM is a priority for AAUW National, as illustrated in this overview page on its website: https://www.aauw.org/resources/policy/position-stem-ed/ and this one about its Tech Savvy daylong science, technology, engineering, and math (STEM) conference first developed in 2006 for girls in sixth through ninth grades and now offered  throughout the United States:  https://www.aauw.org/issues/education/ .
STEM education is also a priority for AAUW Austin.  The Austin Branch and its members have been involved with local organizations offering STEM programs and activities for girls for over twenty-five years so far, and the rest of this webpage focuses on that history and those organizations.
EXPANDING YOUR HORIZONS
Austin AAUW members began playing an ongoing role in the education of girls when the Austin Branch became an Expanding Your Horizons (EYH) Network partner (cosponsor) in 1990.
For a bit of background history, Expanding Your Horizons began in 1974 in the San Francisco Bay area as the Math/Science Network, an informal group of women scientists and educators who were concerned about low female participation in math courses. On a volunteer basis, members of this group began planning coordinated efforts to strengthen their individual programs and to offer mutual support.  Early in EYH's history, its leaders developed the idea of "conferences," programs where middle‑school and high‑school girls would participate in hands‑on activities in math, science and engineering, with workshops led by adult women in STEM careers. In such conferences, girls have fun in the workshops while they also learn about STEM and STEM‑related careers and interact with positive adult STEM role models. The conferences expand the horizons of girls from a wide range of backgrounds; all the girls learn about possible careers and, most important, learn that they could pursue such careers. Thus the conferences serve as a gateway to additional STEM activities, and many alumnae say that attendance at an EYH conference was instrumental in their eventual choice of a STEM career.
Member Raemar Shown served as the Austin Branch's liaison and volunteer coordinator for sixteen of the first twenty years of the Expanding Your Horizons conferences in Austin.  For the conference held at the University of Texas Teaching Center on April 17, 2010, she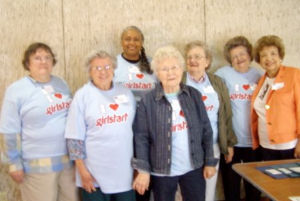 organized more than twenty volunteers from the Branch to handle registration and to provide support for the managers and presenters of an expanded conference in which fourth-grade girls joined fifth and sixth-grade girls in activities planned to expand their horizons in math and science.
---
GIRLSTART
While the yearly conferences have continued, they experienced changes after a new non-profit organization, SmartGirls, (precursor to Girlstart), was founded in Austin by Austin Branch member Rachel Muir in 1997. Since Girlstart's stated mission is "to increase girls' interest and engagement in STEM through innovative, nationally-recognized informal STEM education programs," it made perfect sense for Girlstart to begin managing the EYH conferences that same year.
After Rachel Muir accepted a new position as the Executive Director of the Mother's Milk Bank of Austin in 2009, Dr. Tamara Hudgins became Girlstart's Executive Director and Julie Shannan the Deputy Director; Tamara Hudgins is also a member of the Austin Branch, and a close connection between Girlstart and the Branch continues. For more information about Girlstart, visit http://www.girlstart.org/ .
Beginning in 2011, the name of the annual conference for girls was changed from Expanding Your Horizons to Girls in Stem. As Tamara Hudgins explained in the January 2011 Branch newsletter, "we just wanted to be clear in the name what it is that we are doing, and some members of the community don't know EYH or what it means. Girls in STEM is simply more specifically descriptive of what it is.  And we are still calling it 'Part of the Expanding Your Horizons Network' in all of our materials. We do not want to sever any ties with EYH national! We love collaborating."
Girlstart has expanded its programs over the years, and since 2012, member Lilac Bauer has served seven years as the Austin Branch's Girlstart liaison and volunteer coordinator.   Nancy Andren took over for Lilac in 2019.  Members who would like to help in preparations for Girlstart conferences and other events, and those who want to donate to the Girlstart nonprofit organization are encouraged to contact her for details.
We also like to support Game Changers Annual Luncheon, a special celebration honoring women who have made a significant impact locally or nationally utilizing their STEM (science, technology, engineering and math) education, with all proceeds benefiting Girlstart.
---
LATINITAS
The Austin Branch became acquainted with Latinitas at the March 2012 Women's History Month Branch meeting when Laura Donnelly, one of its co-founders, spoke about the organization.
The vision of Latinitas was developed by a group of University of Texas at Austin students, and in 2002 Latinitas became an official student organization at the University, formed a Board of Directors, and incorporated.  Since its inception, Latinitas has been empowering Hispanic girls through media and technology.
Latinitas became a 501c3 nonprofit organization in 2007, and under the leadership of its cofounders, Chief Executive Officer Alicia Rascon and Chief Operations Officer Laura Donnelly, it has continued to expand its geographical scope and programs and activities. For more information about Latinitas, visit latinitasmagazine.org .
In 2013, Lilac Bauer became Austin Branch's Latinitas liaison and volunteer coordinator In the February 2013 Branch Newsletter, she first announced an orientation session for those interested in volunteering with Latinitas, and the number of volunteers has increased over the years.  During 2016, members assisted with Code Chica, College Chica, and Start Up Chica conferences.  Nancy Andren took over for Lilac in 2019. Members who would like to help in preparations for Girlstart conferences and other events, and those who want to donate to the Latinitas nonprofit organization are encouraged to contact her.  The Austin Branch donated 120 hours to both organizations during 2019-2020.
---
STEM RESOURCES: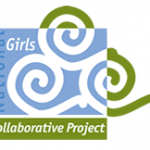 The National Girls Collaborative Project™ (NGCP)  strives to disseminate project findings, successes and lessons learned in order to raise awareness about the project and contribute to the knowledge base in the field of gender equity in STEM.  Monthly e-newsletter available.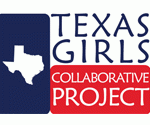 Texas Girls Collaborative Project (TXGCP) leads the dissemination of STEM best practices and informal curriculum across Texas.
Led by the Women in Engineering Program (WEP) at The University of Texas at Austin, TxGCP provides forums, curriculum, best practices and resources to foster collaborations, build capacity of participating organizations, and create a state-wide network of informed and connected informal and formal STEM educators and advocates.
Volunteer/Donate to contribute to the Austin Branch's support of Girls in STEM
To Donate: