Austin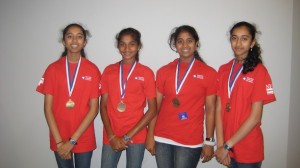 Students work with AAUW & Win TWO National History Day Competitions
In 2012 four Austin, Texas middle school girls interviewed AAUW staff in D.C. for their entry in the National History Day Competition. Their website (http://76705925.nhd.weebly.com/) about the history of Title IX won first prize in the Junior Website Category.
In 2013 they had another winning entry in the National History Day competition; their project won the "History of Congress" special award, and they also placed 6th out of the 95 entries in the Senior Division Website category. The spark for the girls' project on the Voting Rights Act of 1965 began with their visit to the AAUW National Office the prior year where they were asked to do a short video on why voting is important. It made the students realize that in the next presidential election they will be 18 and eligible to vote!  They were able to interview many civil rights leaders like Amelia Boynton (who is 101 years old), Ambassador Andrew Young, Congressman John Lewis, Attorney General Ramsey Clark, Vice-President Walter Mondale (who was a senator when this law was passed),  and many others as part of their research. The URL for their 2013 project is: http://18602803.nhd.weebly.com/ .
CONGRATULATIONS!!!   Smrithi Mahadevan, Maanasa Nathan, Priya Ramamoorthy, and Kavya Ramamoorthy !!